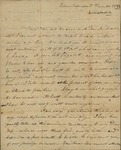 George Van Brugh Brown to Susan Kean, December 2, 1797
The Liberty Hall Collection consists of the correspondence, financial records, legal documents, and other manuscript material of the Livingston and Kean families, dated from 1739-1847. The bulk of the collection is related to Susan Livingston Kean Niemcewicz (1759-1833). The Livingston and Kean families frequently corresponded and held accounts with other wealthy, prominent, colonial and early American families in New Jersey, especially Elizabethtown, Philadelphia, New York City, upstate New York, England, France, and Poland. A small portion of the collection includes correspondence with early Virginia families, unrelated to the Livingston and Kean families. The collection includes second hand accounts of enslaved people who were owned by the Kean and other families, offering a glimpse into their forced work and places of residence.
Description
George Van Brugh Brown wrote from Holmes, Kilmarnock, Scotland to Susan Kean, his aunt, mistakenly addressed to Elizabethtown, NY instead of Elizabethtown, NJ. He was glad to hear from Susan that she and Peter were well, saying they gave him and Elizabeth (his wife?) much joy. He said that he looked forward to receiving another letter from Peter. He asked about multiple family members and asked Susan to send his best. His wife had been ill recently and that prevented him from writing. He wrote about his career in the army, the rising taxes, and his desire to own land in the country.
People Included: Maria Ricketts,Philip Livingston, Cornelia Livingston, Mary L., and Betsey Bayard.
Places Included: Abyssnia Estate, Elizabethtown, NJ
This paper has been withdrawn.