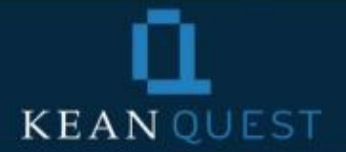 Policies
Kean Quest accepts submissions on an ongoing basis via an online submission form. Email keanquest@kean.edu to learn more.

Kean Quest responds to each individual submitter with updates that are pertinent to the status of their submission.

Students can check on the status of their submission by emailing keanquest@kean.edu.

Submissions are reviewed by a small reviewer pool that carefully assesses work for accuracy, use of current scholarship, language, punctuation, and formatting per discipline.

All names and identifying information are removed from submissions before assessment begins in order to ensure fairness.

Once a submitter receives suggested edits, they are to make all corrections and make an appointment with Writing Services for a final review session.

After both steps have been completed, a submitter is then asked to email or reupload the work to the Kean Quest submission form.